Joint Statement On Climate Change to the 26th Session of the Conference of the Parties to the United Nations Frameworks Convention on Climate Change (COP26)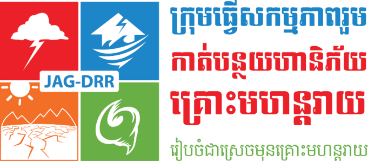 Joint Statement
On
Climate Change to the 26th Session of the Conference of the Parties to the United Nations Frameworks Convention on Climate Change (COP26)
Phnom Penh/Nov 11, 2021 – Cambodia is highly vulnerable to disasters, ranking as the 4th highest risk category country in Asia and fifteenth worldwide according to the 2021 World Risk Report, placing it among the world's most at-risk countries.
Flooding, drought and storms are the main causes of disasters in Cambodia, with flooding caused by storms and heavy rainfall being the most destructive form of disaster that the country faces on a regular basis, representing 65% of disasters affecting the country. In 2020, floods affected the livelihoods of over 175,000 households across 14 provinces, all of which required food assistance.
As the Joint Action Group (JAG) of Civil Society Organizations (CSOs) working collectively to strengthen disaster resilience in Cambodia, we have closely observed the issues related to climate change and their impacts on the most vulnerable communities, including poor households, people with disabilities, indigenous populations and children.
We acknowledge that the updated Nationally Determined Contribution (NDC) of the Royal Government of Cambodia presents its commitments and needs for the next decade for realizing the vision of a low carbon and resilient society.
Prior to the COP26, we conducted a multi-stakeholder series of analysis, surveys, consultations and discussion events to further understand the progress, challenges and priority actions related to the climate change crisis.
From July to August 2021, we also conducted a Climate Crisis Survey of 3,117 children, along with consultations through the children and youth networks, to understand their perceptions on and the extent of the impact of the climate crisis on their lives, and possible ways forward.
Building on the findings of Climate Crisis Survey, consultations held amongst children, women and other vulnerable groups, as well as youth networks, JAG recommends the following:
Build community resilience through facilitating dialogues and community outreach, raising awareness on adaptation actions, and increasing funding to the community based adaptation works.
Ensure effective, transparent and sustainable resource mobilization, in part towards the implementation of NDCs, by encouraging countries to enact budgetary commitments, supporting country level strategies for resource mobilization, and committing to inclusive decision-making processes regarding usage of committed funds that include private sector and civil society engagement.
Uphold accountability by allocating funds for payments for damage and remedial actions, reinforcing ethical business models that focus on climate change and DRR issues, and supporting evidence-based studies on 'in country' climate impacts.
Ensure that global policies are community-centred, including the awards of carbon credits for forest conservation and reforestation with consideration for community livelihoods and risks facing the climate crisis as well as the promotion of low-cost and accessible technology to mitigate the climate crisis.
Ensure the institutionalization and implementation of policies on climate change and DRR in a way that engages multiple stakeholders, including civil society and youth, to ensure sustainability while upholding good governance by reinforcing the implementation of the Climate Change Policy at country level, and ensuring carbon trading is carried out in an ethical way without double counting or green washing.
Respond to the sixth assessment report of the Inter-Governmental Panel on Climate Change 2021 and the urgency outlined in the report with ambitious action.
About JAG:
In Cambodia, the Joint Action Group (JAG) brings together CSOs working to strengthen disaster resilience for the most vulnerable communities, including poor households, people with disabilities, indigenous groups and children.
Members of JAG include Save the Children, DanChurchAid, People in Need, World Vision, PADEK, Asia Disaster Preparedness Centre, ChildFund, ActionAid, Save the Earth, Life With Dignity, Caritas, Plan International, AVSF, Life Steps Organization.
Notes to readers:
From 31 Oct to 12 Nov 2021, the United Kingdom along with co-host Italy are now hosting an event many believe to be the world's last best chance to get runaway climate change under control. For nearly three decades, the United Nation has been bringing together almost every country on earth for global climate summits called 'Conference of the Parties' or COPs. This year will be the 26th annual UN summit – giving it the name COP26. With the UK as President, COP26 takes place in Glasgow.
Please contact for further information:
Mr. Ros Chanborith , Save the Children in Cambodia, Email: Chanborith.ros@savethechildren.org
Mr. Nop Polin, DanChurchAid in Cambodia, Email: nopo@dca.dk
Ms. Keo Socheat, ChildFund Cambodia, Email: keosocheat@childfund.org.kh
###