A DROPPED-OUT BOY RETURNS TO SCHOOL WITH A WISH TO BECOME A DOCTOR
Theang Sophanna, a 9-year-old boy who had previously dropped out of school, is determined to study hard and become a doctor. He wants to provide medical care to people in his community and help those suffering from rare illnesses like his mother.
Sophanna lives in Trapeang Ta Sokh village, Prey Mul commune, Rolea B'ier district, Kampong Chhnang province. He is a single-parented child of Ms. Koch Salim, 43 years old, whom the doctor confirmed to be having mental instability and a skin ulcer. His father abandoned the family just a month after his birth due to the pressures and responsibilities that came with raising a family.
Sophanna's family has been struggling financially because of his mother's low cleaning and farming services income. Last year, he had to drop out of school when his mother was hospitalized for one month, leaving him and his 13-year-old sister without any financial support for their daily expenses and food.
"I could not attend school because I was at the hospital caring for my mother. My sister and I made woven wooden baskets and sold them for money in those days," said Sophanna. "We earned very little and could not have enough to eat sometimes. I missed going to school and playing with my friends."
Prey Mul primary school, where Sophanna attended, is one of the 32 target schools supported by the Safe Back to School– Pathways in Educational Equity and Resilience (PEER) project, with funding support from Save the Children Korea in July 2021.
In collaboration with the Provincial Department of Education, Youth, and Sport before the start of the 2022-2023 academic year, the PEER project supported all target schools to conduct "Safe Back to School" campaigns and home visits to children who had dropped out of school and those facing financial difficulties.
Sophanna's teacher, Mr. Chhut Phanan, visited Sophanna's mother at her home after she was discharged from the hospital, learned about her family's challenges, and reported to the school management committee.
"Sophanna was a good student, and he studied hard, but because of his family condition, he missed many classes, became a struggling learner, and eventually decided to drop out," said Mr. Phanan, adding the school management committee also paid a visit to his family and had a consultation with his mother regarding their financial situation and the importance of his education.
Sophanna's mother was able to get a cleaning job at the local health center, which was recommended by the school management committee at a later time. This allowed her to earn a stable income and have time to cultivate crops for their meals and weave wooden baskets to sell. As a result, Sophanna and his sister were relieved of some of their responsibilities and returned to school.
Earlier this year, Sophanna received the support of cash for education from the PEER project and returned to school in grade 3. He used the cash to buy a bicycle, a uniform, and other study materials.
The project also supported the Prey Mul primary school in running a program to improve the learning of struggling students like Sophanna. The program also included learning clubs, which are self-study groups made of students.
"Returning to school made me feel very happy. I now have friends to play with, not lonely as I stayed home," Sophanna said. "I wish I could become a doctor when I grow up to improve our family's condition and help cure my mother's illness and community people."
Sophanna was among the five dropouts in the 2021-2022 academic year, noting that these children were all from low-income families, said Ms. Koeung Kolap, Prey Mul primary school principal.
"We talked to their parents and stressed that the way to overcome poverty and improve their livelihood is to send their children to school so they could learn and find a good job with a good salary," said Ms. Kolap, "It took some time for these parents to consider, but I'm glad we made it. Now these children returned to school."
Speaking with tears, Sophanna's mother, Ms. Salim, described how grateful she felt for the support she received from school and the PEER project team, adding that Sophanna and his sister mean a lot to her, and she will do whatever to support them with their studies.
"I feel bad for my children. Their father left when they were small, and they had to stay with me, an ill person who could not earn much to support the family. I am touched by all the support we received. I'll do everything to support my son and my daughter. I want them to be wise and have good jobs so that their lives would not be as difficult as now," Ms. Salim said.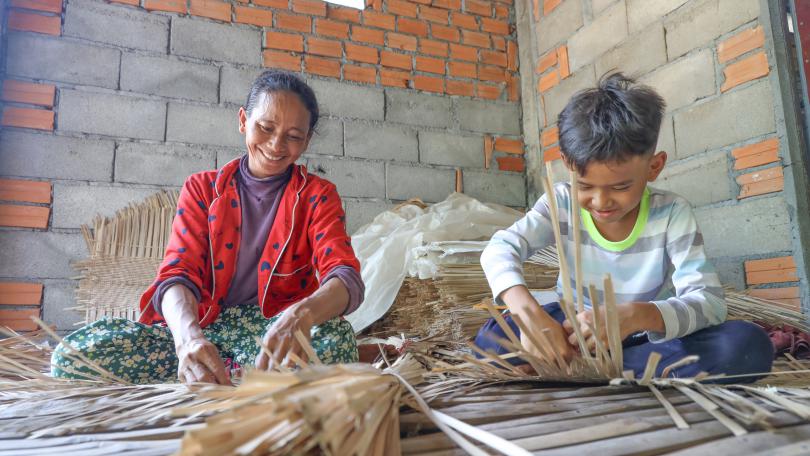 Interviewed by: HING Longsokha, Project Officer
Written by: Taing Vida, Communications and Campaign Manager
Proofread by: Chin Kethya, Donor Reporting Specialist