A "GOOD" TEACHER PLEDGES TO SUPPORT CHILDREN AND HER COMMUNITY
Ms. Tith Rida, a nationwide award-winning teacher, consistently strives to further improve herself with teaching methods and skills to bring greater recognition to her school and community.
Ms. Rida, a 27-year-old grade 4 teacher at Spean Po primary school, won third place in the Samdech Techo Sen Award for Good Teacher for the 2021-2022 academic year. The Ministry of Education, Youth, and Sport (MoEYS) announced the award earlier this year.
Ms. Rida lives with her mother and a younger sister in Speanpo village, Sethei commune, Samaki Meanchey district, Kampong Chhnang province. Her father passed away in 2019 because of a traffic accident. Her other three siblings have relocated to other provinces and Phnom Penh for work and education purposes. Currently, Rida's mother and sister are selling food at a nearby garment factory while they reside nearby. Rida often assists them by cooking in her free time from school.
It has always been a dream for Ms. Rida to become a teacher and teach children at Spean Po primary school, which she once attended as a student.
"Being a teacher was what I dreamt of when I was young. I started working as a preschool teacher in 2016 when I graduated fromKampong Chhnang Provincial Training Center," she recalled, "There were a lot of young children in each classroom, making it challenging for me as a new teacher. I was unsure of what to do other than follow the curriculum."
Ms. Rida noted that she improved how she taught and communicated with young children through the experience and continued support she received from her peers and projects funded by Save the Children.
Spean Po primary school, where Rida taught, is one of the 32 target schools supported by the Safe Back to School– Pathways in Educational Equity and Resilience (PEER) project, with funding support from Save the Children Korea in July 2021.
In collaboration with the Provincial Department of Education, Youth, and Sport, the PEER project supported teachers in all 32 target schools with capacity building, including training on creating child-friendly study materials, forming a classroom management committee, and utilizing information and communications technology (ICT) to organize virtual classes, produce videos, and create online learning groups.
Ms. Rida noted the PEER project also equipped her with the skills and knowledge to teach young students effectively and recognized her hard work and exceptional performance. She was later encouraged by the school management committee and the project team to register for the annual "Good Teacher" competition, which evaluates candidates based on their performance, work results, and dedication.
"I told myself to go for it though I may not be selected. I competed and eventually won third place. I felt delighted when my hard work paid off." Ms. Rida said, "I am committed to sharing what I experienced with other teachers and instructed younger teachers to perform their roles as good teachers best."
Ms. Rida added that she would continue to teach students at her school and provide extra support to struggling learners.
Ms. Rida's student, Mengheang, 11 years old, said he enjoyed attending classes and learned a lot from his teacher. "I am happy because my teacher [Ms. Rida] is good at teaching. She made it fun for us to learn," he said. "My teacher is calm and smart."
Mr. Hel Sok, deputy principal of Spean Po primary school, considered Ms. Rida a high-potential teacher, noting her intelligence and support.
"She learned very quickly and applied what she learned to her practice very well. She often shared her knowledge and experience with other teachers," he said. "I am proud of having her as one of our teachers here. We will continue supporting her so that she can become even better."
Besides Ms. Rida, two other teachers - Ms. Nuth Choeurnseyma, from Wat Thmey primary school in Kampong Tralach district, won first place for the best Mathematics teaching while Mr. Sok Tit, from Chrak Sdach primary school, also won first place for the best Khmer Literature teaching under the "Samdech Techo Sen Award.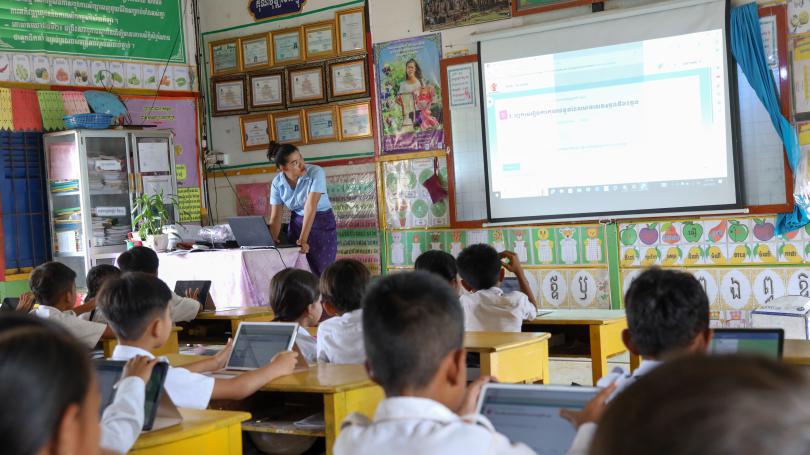 Interviewed by: Pov Khoeun, Project Officer
Written by: Taing Vida, Communications and Campaign Manager
Proofread by: Chin Kethya, Donor Reporting Specialist