A young mother found her self-worth in helping the others
It is almost 1 pm, and Ms. Ean is getting ready to provide lessons to other caregivers. She smiles, thinking of her experience as a formal actor in her community. "I am delighted that I can see the value of caregivers' sessions and realize my potential for doing this. I am proud that I have the ability to help improve the knowledge of other caregivers in early childhood care development," she says, with a voice of pride.
Chhorn Ean is a 25-year-old mother living with her family in Veal Kriel village, Trean commune, Kampong Siem district, Kampong Cham province. She recalled the learning journey in 2019 after she graduated with a bachelor's degree in Accounting from Chea Sim University of Kamchaymear in Kampong Cham. She moved to Phnom Penh and worked as a Cashier at Cambodia Asia Bank.
After ten months, Ms. Ean and her husband decided to return to her homeland to care for her mother, who was seriously sick. Shortly after, her mother passed away in 2020, and Ms. Ean could not look for a new job because she was pregnant.
Ms. Ean started working as a part-time English teacher in her community after her daughter turned two years and seven months old to generate more income and support her family. She said with a tone of sadness, "due to the busyness of teaching and farming work, my husband and I rarely spent time with my daughter," she continued, "during that time, we asked our younger brother to take care of her; hence, our relationship was not good."
In July 2022, Save the Children Cambodia started implementing the Grandparents, parents, and communities join forces to give boys and girls 0-3 years old a healthy start in life (GRAND) project, funded by Save the Children Hong Kong. The project has worked with local authorities to establish caregivers' groups to teach community members about the importance of childcare and child development for their young children.
Ms. Ean realized the gaps in properly raising her daughter when she first attended a few sessions with the grandmothers. Later, Ms. Ean made good use of time while she cooked to teach her daughter by introducing kitchen items and vegetables. She believes this helps her daughter improve her literacy and numeracy. "I also created a reading habit with my daughter, and she is now interested in reading books and gets more curious about what she sees in the books, particularly about the colours," Ms. Ean said.
Ms. Ean also noticed her daughter bravely interacted with other children and the elderly. Plus, she is more independent in learning and always reads books with her parents. Ms. Ean has earned benefits from the grandmother's session, so she actively engages with a series of grandmothers' sessions and she never missed a session.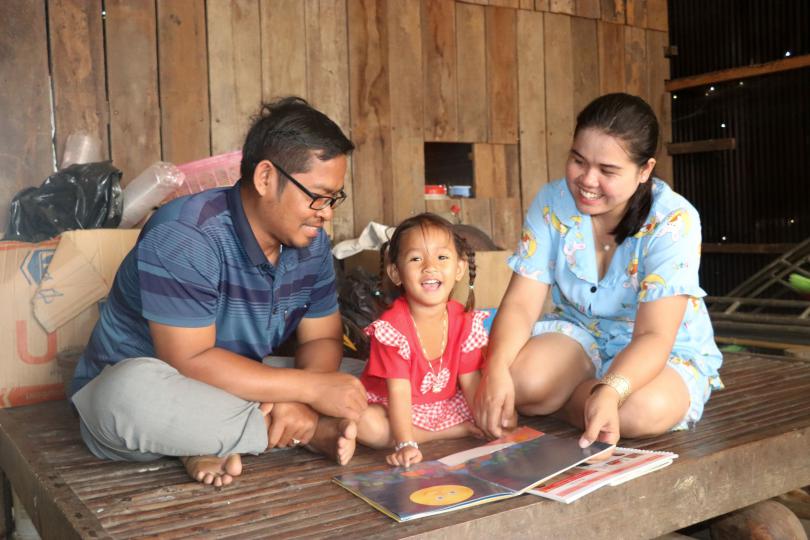 With her active involvement, Ms. Ean was appointed as a community formal actor, who has voluntarily facilitated sessions 7 to 12 to other caregivers at her home.
Khiev Lakkhena, the official of the Office of Early Childhood Education, noted that Ms. Ean has great knowledge of caregivers' sessions.
Lakkhena said, "I interviewed Ms. Ean at her village, and she was one of the caregiver group members we conducted the knowledge assessment[1]. At that time, I was sure Ms. Ean could lead and provide lessons to other caregivers."
Later in October 2022, Ms. Ean was invited to attend the Training of Trainers delivered by the project. "At first, it was challenging, as I had difficulty explaining keywords to other caregivers," Ms. Ean explained. "But later, I prepared the lesson plan and rehearsed before the session started," she continued, "I also encourage mothers and their children to practice so that they could easily understand and engage with the session."
Many caregivers in this community believe that each lesson the project provides is essential and interlinked, so they have disseminated the information to their neighbours and invited them to join. The number of participants has increased. Currently, caregiver groups are split into two groups, one session held in the morning and another in the afternoon every weekend. But she has to travel about 4 kilometres for the afternoon session in another village.
"I feel pleased because my wife is recognized and valued through her volunteer work for the community," Ms. Ean's husband, Mr. Nan Rina, said. Ms. Ean noted, "since my husband shares the responsibilities of household chores and looks after our daughter, I am increasingly confident in giving lessons with other caregivers."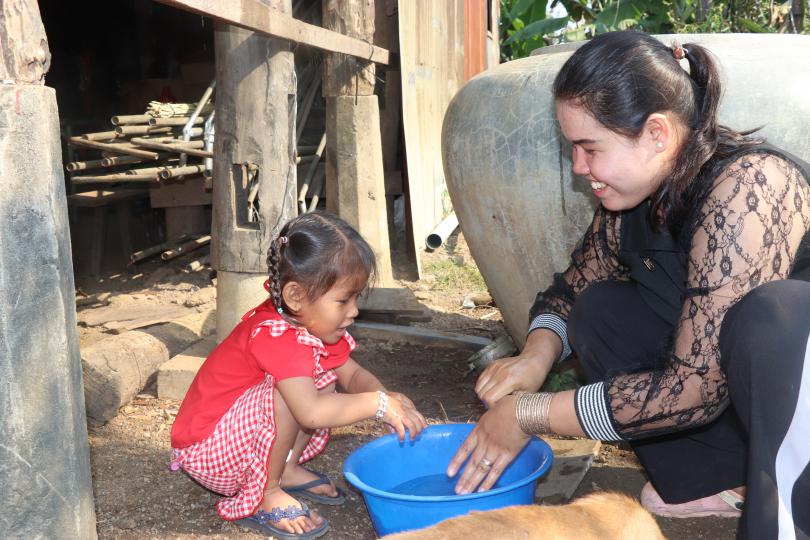 ---
[1] The knowledge assessment tool is used to assess caregivers' level of understanding of session modules.