A Teacher Tells Challenges of His and His Floating School
Mr Chhorn Chreung, a 30-year-old teacher, expressed his enjoyment of the changes in his behaviour and the advancement of his teaching methods, saying that he was earlier miserable about what the future will be like for his vulnerable school and his impoverished students.
Chreung became a teacher after he graduated from the Kampong Thom Provincial Training Centre in 2013. His wife is a farmer. The pair lives on a small floating house with three children at the East Tonle Sap Lake, about 100 kilometres from the floating Prek Khsach Primary School, where he has been teaching for nearly nine years.
The school is in Koah Ta Pov Village, Phat Sanday Commune, Kampong Svay District, and Kampong Thom Province. It consists of only three rooms, and each classroom is split in half to accommodate two grades, either grades 1 and 2 or 3 and 4 or 5 and 6, with a shift in the morning and afternoon. At this school, all students and teachers must be able to swim so they can come to study and teach safely.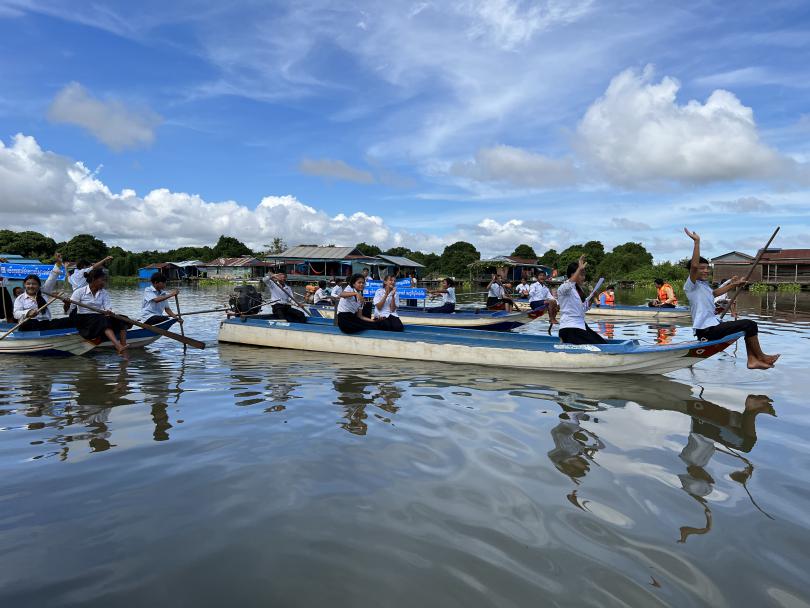 "It was challenging when I started teaching here, and I was not equipped with proper teaching methods or classroom management skills. I received no information about education development or was invited to any meeting. I relied on our school principal most of the time," said Chreung.
Chreung said that because the community was constantly flooded during the rainy season, education officials at the sub-national level could not regularly visit and support his school. The school built in 2004 lacked facilities and toilets and became dilapidated as years passed, and because of this, he had slowly become careless with teaching and educating his students.
"Most students living here were from low-income families. They missed many classes because they needed to support their parents to do fishing. Some students did not own a boat, so they decided to drop out," he said. "At that time, I paid less attention to teaching students."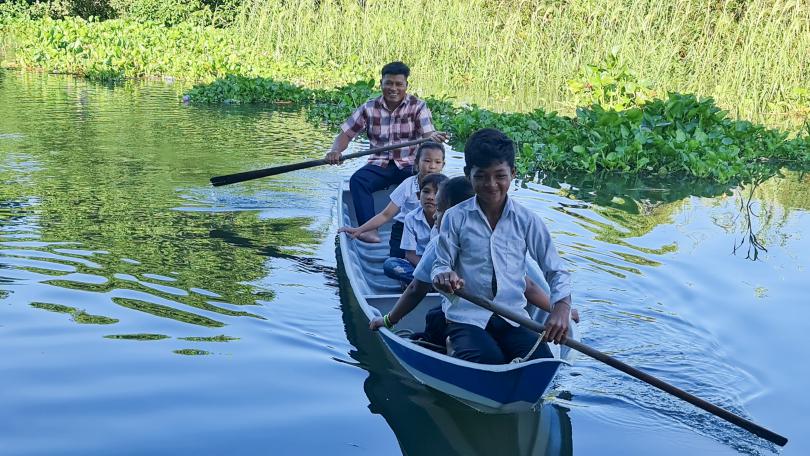 In collaboration with the Provincial Department of Education, Youth, and Sport, Save the Children's Generating Resilient Environments, and Promotion Socio Development of the East Tonle Sap Lake (GREEN) project funded by the EU was introduced in March 2021, shading lights on Chreung and his school, particularly improving teachers' capacity and the school facilities.
The Norton Rose Fulbright complemented the funding for the GREEN project in May 2022, provided capacity strengthening on the teaching method and classroom decoration, and educated teachers and students with environmental lessons, allowing them to conduct campaigns raising the community's awareness toward the harm caused by waste and pollution.
"I have been actively involved in the project's activities. The intervention not only helps change my behaviour to striving for self-improvement and adequate education for my students but also motivates parents to return and send their children back to school," Chreung said.
Mr Ho Vutha, the village chief, praised Chreung's commitment, pledging to jointly support this school and make sure that children can learn.
"I will support and encourage parents to send their children to school so the young generation could be educated and contribute to the village development," he said.
Yoeun Molra, a 10-year-old girl currently studying in grade 3, said she enjoyed coming to Prek Khsach Primary School after the classrooms were renovated and decorated beautifully.
"My friends and I are happy, and we are committed to coming to school regularly and studying here until we graduate the grade 6," she said.
According to Ms Sun Chendamony, head of the Provincial Primary School Office, the changes in the behaviour of teachers and parents influence the learning of students.
"When teachers have clear plans for teaching, and parents are properly informed about the importance of education, children would be able to come to school regularly and learn happily," she said.