A male caregiver recognizes bias in gender roles
"In order for children to grow up healthy and wise, a father needs to know how to take good care of and provide as much as a mother does for their children," said Mr. Heang Limsrun, acknowledging his past mistakes for putting too much pressure and sole responsibility on his wife for raising their children and doing all household work.
Mr. Limsrun, 38 years old, and his 36-year-old wife, Ms. Phin Chouloeun, got married in 2005, a year after they met in Phnom Penh working at a garment factory. The pair had their first child in 2006 but were not able to look after him as his wife had to work at the same time. The child was sent and raised by Mr. Limsrun's mother in Kampong Cham province.
In 2012, the couple had their second son and again left him with his grandmother. They decided to return to their hometown in 2019 and opened a small grocery store at home in order to reunite with their children and parents. They also gave birth to a third son in 2021. The family now live in Trapaeng Tras village, Krala commune, Kampong Siem district, Kampong Cham province.
"Over the past years, I was convinced by the social gender roles and believed that my wife has to do all household work and look after our children," said Mr. Limsrun, "I often spent time hanging out and drinking alcohol with my friends. The most embarrassing thing I did was using violence against my wife and children when I got drunk. I was told that this was what men should do and act to manage the family. We were not happy at that time."
Mr. Limsrun said his thoughts about gender roles changed when he joined other fathers in the male caregiver groups, established by the Raising Awareness and Innovative Strategies for Early Child Development (RAISE) funded by Save the Children Hong Kong in 2020. In close collaboration with local authorities, the project provided knowledge to all these men and a total of 7 training about their children's development and their role in engaging in childcare from August to December 2021.
"Being part of male caregivers helped me to realize that I was wrong and I had in the past distanced myself from my children, pressuring my wife to account for our family," he said. "A father plays an important role in the family and is also responsible for raising children and doing household work."
Since then, Mr. Limsrun said he spent more time at home sharing household work such as cooking, cleaning, and staying with his children. As time went by, he noticed the changes in communication and interaction in his family. His children are growing healthy and gracefully with the care he provided. Mr. Limsrun's 17-year-old son now studies in grade 11 while the second son is in grade 4.
In return for his commitment and hard work, Mr. Limsrun was finally voted as chief of the male caregiver group. He is now working closely with the village chief to educate villagers, especially young fathers about the bias in gender roles and to share his experience in growing his young and healthy third son.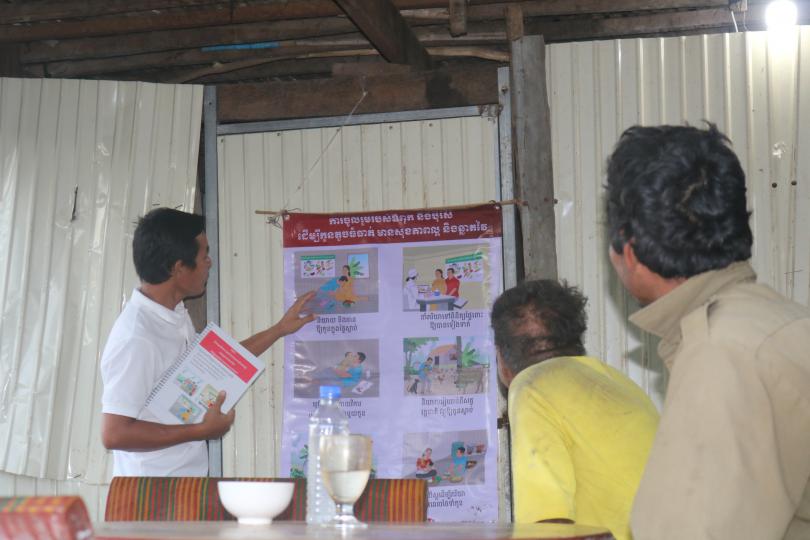 "I want all men in my community to change their behavior from neglecting household work and family to a good young man, a good husband, and a good father who knows how to help with all household chores in the family," he said.
Mr. Yi Loch, the village chief, said he feels really proud of Mr. Limsrun and recognizes the changes in his behavior and perspective toward gender roles and responsibility in raising children.
"He is really hardworking and committed to his role as head of male caregivers," Mr. Loch said.