Inclusive Learning Rebuilds Hope for Children with Special Needs
Theary looks back at her time in primary school to share her journey from a struggling learner to an outspoken student full of confidence. Theary (15) is the youngest daughter in her family living in a remote area of Sameakki Mean Chey district in Kampong Chhnang province. Her parents are farmers, earning very little every day to make their living. Theary herself is helping to feed her family as she finds snails in the field or catch crabs for their family meal.
Theary used to have difficulties to follow her lessons in primary school. She had fallen behind with her reading and writing, which made her feel discouraged and frustrated with herself at times. "I wanted to drop out of school because I had been struggling with learning," revealed Theary. Unfortunately, it was not the only challenge for her at school: "my classmates did not allow me to sit next to them and asked me to sit alone in the back – this made me feel so down and afraid to even interact with them." Theary was also having hard time getting to school as her family couldn't afford a bicycle to get there. Facing those challenges, Theary wasn't motivated to attend school and skipped classes frequently as she felt embarrassed around her classmates. Over time, her performance suffered and she almost failed her classes.
At the time, Theary was also not receiving the right support to thrive at school as teachers did not know how to adapt their teaching and support students with special needs, explained Mr. Iech Sim, principal at Theary's primary school.
Since 2018, Save the Children have worked closely with the Provincial Office of Education to implement the Education with Quality and Inclusive Learning (EQUAL) project in Theary's school. With financing through South Korean donors and Save the Children Korea, the project supported Spean Pou Primary School with an upgrade to inclusive demonstration classrooms, trained teachers in pedagogy and inclusive and child-friendly teaching techniques.
After three years of the project support, teachers at Theary school are able to use their training and identify when children require special assistance. Theary's teacher, Mr. Sorn Chansath started to pay more attention to her needs and to support her learning. He has even developed new materials such word cards and picture cards to help her remember new words and made sure that Theary sits next to a well-performing student to help her during lessons and to keep her motivated. With Mr. Chansath's teaching approach and smart tactics in the classrooms, Theary's learning outcomes have improved.
To ensure all children can access their education, the EQUAL project provided materials to the children from low-income households over the three years of its implementation. The School Management Committee selected Theary to receive study materials and a bicycle to help her get to her classes.
During the COVID-19 school closures, Theary was encouraged to join online learning through a group Messenger. Since her family could not afford a smartphone, she has joined one of her friend's to study together: "I am delighted to be studying with my friends and they are really helpful and kind to me," Theary, said with a big smile. "I like doing my exercises with them and I can see that my learning is getting better."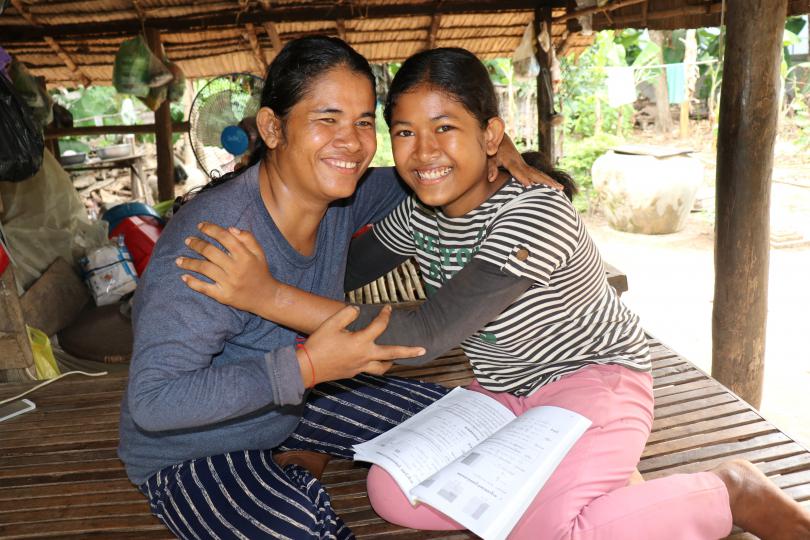 Her father is also very pleased with the progress he sees in his daughter. "I am now paying more attention to Theary's learning and I have encouraged her to continue learning to achieve her dreams," added Mr. Rom.
Theary has changed a lot – from a shy and quiet learner to a very active and outspoken one. She has now moved to high school level and she enjoys learning with other students, she can read and write very well, and she doesn't get flustered with mathematics either. When we asked what she wanted to be in the future, Theary quickly responds that she wants to be a "teacher."