Commune Committee for Women and Children (CCWC) was recognized as a resourceful
Phin Saroeum, a 67-year-old woman, was recognized as a resourceful member of the Commune Committee for Women and Children (CCWC) at the commune level for finding ways to empower women and children dealing with problems happening in the community, especially domestic violence and sexual abuse.
Ms. Saroeum currently lives in Pringkaong village and commune of Kampong Chhnang's Rolea B'ler district. She was formerly known as a teacher and became a member of the CCWC in 1998 because of her achievement and commitment to social work. Since then, she has worked to empower women and children to address various issues and stand up against domestic violence and sexual abuse.
"I would meet each spouse individually to identify the root cause and highlight the impact on their children and family well-being. At the time, the police and I were busy with divorce and violence cases daily," Ms. Saroeum told how she addressed domestic violence against women and children in her community.
She was happy to see many couples were able to restore their relationship with her guidance and support. She also conducted home visits to monitor their progress to ensure positive change in their behaviour and reduce violence in their family. However, she added that her knowledge is limited and lacks approaches to conflict management.
In 2021, Save the Children, with funding support from the Australian Department of Foreign Affairs and Trade (DFAT), partnered with local authorities to establish Village Volunteers (VVs) in Ms. Saroeum's commune. The project invited Ms. Saroeum and VVs to join a series of trainings regarding positive parenting and child protection to strengthen their capacity so they can assist each other in conducting monthly parenting sessions that positively raise their children and deal with domestic abuse occurring in their community.
Through this training, Ms. Saroeum has gained knowledge, confidence, and skills in conflict management, ensuring effective conflict resolution strategies for victims of violence and abuse. "I frequently supported VVs to mobilize people to join parenting sessions and step in to give suggestions to ensure parents or caregivers properly understand the importance of each session," she said.
Adding to that, Ms. Saroeum and VV conducted home visits to monitor the progress of their behavior after the parenting session if any of the participants reported violence in their families. She co-led with support from VV by bringing positive parenting toolkits and level 1 books to further explain concepts to those who were unable to attend all sessions.
After Ms. Saroeum found the sessions valuable, she encouraged her husband to participate in parenting group meetings, where Mr. Chheng learned positive techniques for raising grandchildren and shared responsibility for household chores. Since then, he stopped drinking alcohol, which is a commitment to the family's well-being.
"I'm thrilled to see the change in my husband, and now we create a positive and healthy environment for our family," Ms. Saroeum added.
During a home visit and an interview, Ms. Saroeum expressed her love for her work because she has helped victims of children and women from toxic situations. She would visit families and teach caregivers about positive parenting tips.
Ms. Saroeum has noticed a decrease in incidents of domestic violence against women and children recently. "I'm pleased that caregivers have been educated on proper child-rearing techniques and that children have been aware of their rights and how to protect themselves," Ms. Saroeum claimed.
Mr. Thav Thoeun, Commune Chief, stated, "Many caregivers have improved knowledge on upbringing children in a positive environment and safe space. Additionally, children and youth often alert their caregivers if they use inappropriate behaviour with them."
Despite the project's phase-out, Ms. Saroeum is committed to implementing these activities in her village and supporting Village Volunteers in the Commune Invest Program to ensure that people in the community continue to gain knowledge on positive parenting.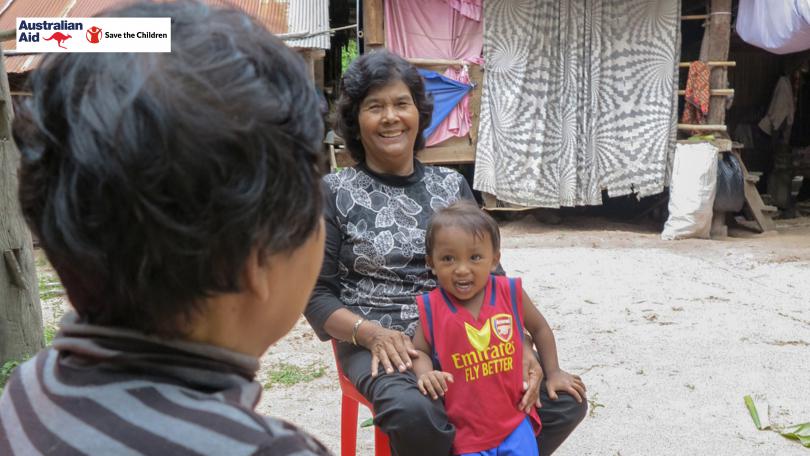 Interviewed by: Chin Sary, Project Officer
Written by: Yous Ratha, Communications Officer
Edited by: Taing Vida, Comunications and Campaign Manager